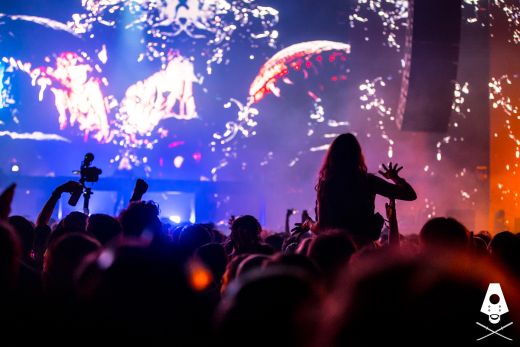 VIP Tickets
Visitors with VIP tickets have to enter through the separate new VIP entrance. Just follow the signs "VIP". At the VIP entrance you will receive a VIP bracelet. The VIP entrance is located at the right hand side of the Sportpaleis - Parking Vaart.

What does a VIP ticket include?
3 level VIP space
Separate new entrance

Lockers included

Separate toilets

VIP bar

Perfect stage view

VIP bracelet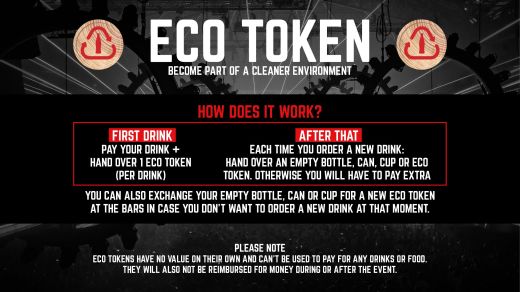 Eco Token
RAMPAGE INTRODUCES THE ECO TOKEN
Become part of a cleaner environment and make Rampage more sustainable by recycling our plastic bottles and cans together!
We would like to ask everyone to keep the venue clean and to help us recycle as much as possible.
This is why the "Eco Token" system will be introduced at Rampage.
When entering the venue, you will receive 1 free Eco Token.


Doors & Security
23 + 24 February, 2024 from 21:00h till 06:00h.

There will be increased security measures and controls by the security staff. Please follow all instructions carefully for your own safety and for a smooth entrance.
We ask you to bring as little unnecessary stuff or bags as possible, but do dress up warmly when cold.
On Saturday - IN=IN, OUT=OUT. The entrance will close at 2 AM.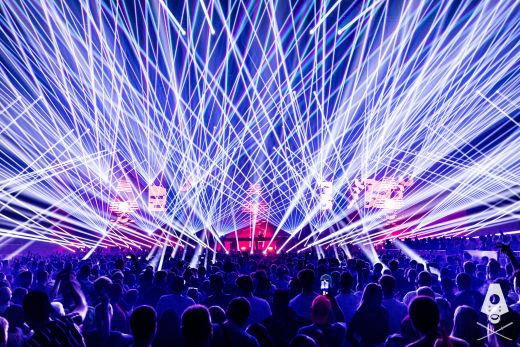 Venue Address
Sportpaleis Antwerp
Schijnpoortweg 119 - 2170 Merksem


Lockers
There will be lockers available at the Sportpaleis. We recommend sharing a locker with your friends to save money and space. Rampage cannot be held responsible for any damages or thefts.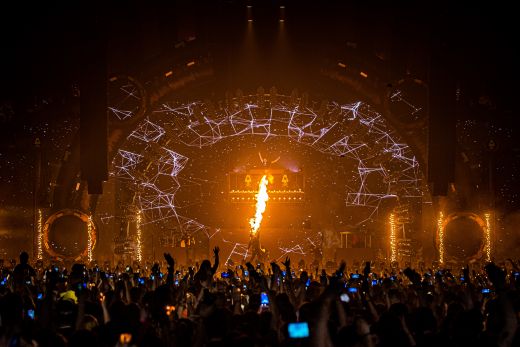 Zero Tolerance and minimum age
There is an absolute Zero Tolerance policy regarding drugs. Visitors will be checked at the entrance. The minimum age is 16 years.
In Sportpaleis on Saturday - IN = IN, OUT = OUT. Make sure to bring your ID, because age will be checked at the entrance. No valid ID = no entry and no refund!
Food stands
There will be food corners at the Sportpaleis venue.
Cameras
We are very lucky to have a professional media team. They will capture the whole event through video footage and photographs. That is why we strongly recommend to experience and enjoy the event with your own eyes and not through your smartphone.
Official Media Team
There will be an official media team at "Rampage". Our photographers and camera crew will be up and running during the event, so make sure to wear your brightest smile.

The official aftermovie for "RAMPAGE" will be available in a few weeks after the event. The official pictures will be available on our Facebook page and on our website, a few days after the event. Please note: you may have been photographed, but this does not mean that your picture will end up online.
What can I bring to Rampage
The following items are not allowed: bottles of perfume, aerosol deodorant bottles, selfie sticks, food, drinks, any kind of weapons, drugs, flagpoles, football flags/any signs of racism or hate.
Merchandise
There will be merchandise available during "RAMPAGE". You can find the merchandise stand in the main entrance Sportpaleis. Merchandise is also available online from Tuesday March 14 2023 - 8PM. Go to our webshop for more info.
How to get there - By Bike
There is a bike park in front of the Lotto Arena – 100m on the left hand-side of the main entrance.
How to get there - Car Parking
For detailed parking information,
Please note that Antwerp is a 'Low Emission Zone', which means that old cars are not welcome in the city. To read more about this and check if your car is allowed
How to get there - Park & Ride
All information concerning the Park & Ride parkings.
How to get there - Public Transport "De Lijn" Antwerp
Enjoy hassle-free travel to and from the Rampage 2024 Weekend! As a ticket holder, you'll be able to travel for free within Antwerp on show days with 'De Lijn' - this includes all public buses and metro/trams.
For your convenience, there will be connections from Sportpaleis to the Park & Ride parking and the center of Antwerp throughout the night. The first tram (number 3) in the morning, heading towards Merksem/Antwerp, will be available at 5:30 AM. Plan your trip ahead of time by checking the button below.
How to get there - Airplane
How to get there - Thalys
Take the THALYS train from Paris France, or Amsterdam, The Netherlands. There is a stop at Central station Antwerp, where you can take Tram 3 to the Sportpaleis. Exit "SPORT".
How to get there - Eurostar / Eurotunnel
Take the Eurostar from London to Brussels Midi. From there you can take the train to Antwerp Central Station, where you can take Tram 3 to the Sportpaleis, Exit "SPORT".
How to get there - Car ferry Dover / Calais
Take the Ferry at Dover, UK. Calais, France, you can drive to Antwerp.
How to get there - Train (NMBS)
Take the train to Antwerp Central Station. From there, take tram 3 to Merksem and take exit "Sport". For more information
How to get there - Private bus parking
For all buses: please take Parking "SPOOR OOST". Walking distance to Sportpaleis: 450 meters. For more details on parking check the briefing sent to all registered buses. If you haven't announced your bus to us yet, please do so before January 5th 2024. Unannounced buses will have to pay a supplementary parking fee upon arrival.


DIRECTIONS & RULES
The following directions are given by Sportpaleis and the local authorities: it is forbidden to drop off/pick up visitors in front of the entrance or nearby Sportpaleis. All buses have to drop off the visitors at Parking "SPOOR OOST" and can wait there during the event. Buses who drop off visitors and leave are also obliged to use Parking "SPOOR OOST".
After the event, visitors have to go back to Parking "SPOOR OOST", where the buses are stationed. Note that it is strictly forbidden to collect visitors in front of the entrance or nearby Sportpaleis.